After the recent disaster in East Palestine, Ohio which contaminated the air and water supply of potentially millions of Americans, many are looking for ways to support their body's natural detoxifying abilities. Many herbs, in addition to their ability to add spice to our lives also have powerful detoxifying properties.  
Although Studies do show herbal therapies can be useful for supporting health, and some even directly  bind to certain toxins, helping our bodies remove them, they shouldn't be regarded as a complete detox solution. If you think you're in danger due to exposure to  toxins such as  contaminated water it's important to seek medical attention, get tested for toxic exposure, and discontinue possible avenues of exposure.

(Coriandrum Sativum) of the Apiaceae family is used in traditional Aztec, Chinese, and Ayurvedic medicine for a variety of conditions. This herb contains purifying, immune-enhancing essential oils which have antibacterial effects and can aid the absorption and transport of heavy metals like lead and mercury from the body.

Cilantro is also used to reduce nausea, and for digestive issues. One of the best parts about this tasty herb is that it gives you one extra excuse for Taco Tuesdays, although sadly, a small percentage of people think it tastes like soap. Aye, que triste!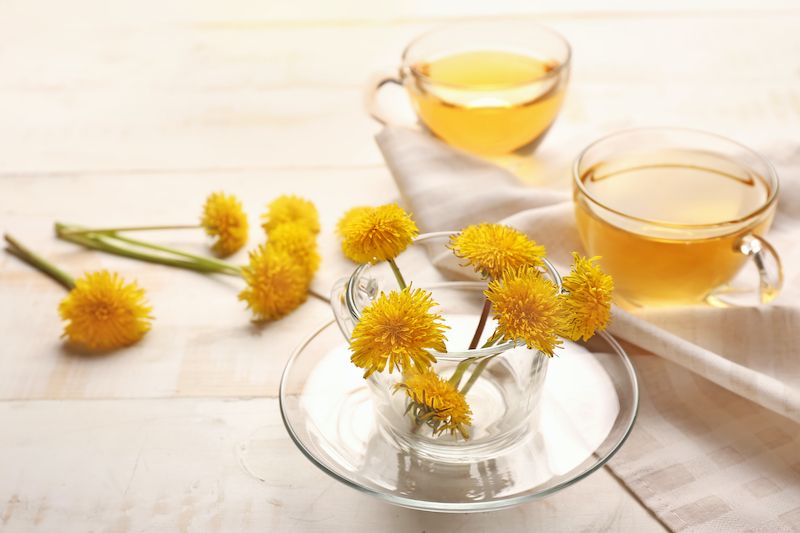 (Taraxacum Officinale) is an annual herb packed with vitamins
and minerals which belongs to the Asteraceae family. Native to Europe, Asia, and North America it has traditionally been used as a diuretic, and is now used widely by herbalists for various reasons. The flower contains powerful antioxidants which have anti-inflammatory properties which can assist the immune system, the leaves are known to help kidney function, and the root is often used to detoxify the liver and gallbladder.

In addition to its detoxifying potential, dandelion is also used by many diabetics to help control blood sugar, and scientists are currently studying many other potential uses of this including slowing down the growth of cancer and weight loss.

(Silybum marianum) seeds have been used for over 2000 years for many illnesses related to the liver and gallbladder. The active compound extracted from milk thistle seeds is silymarin which is used as an antioxidant and hepatoprotective. It's been reported to reduce inflammation and promote cell regeneration in the liver in addition to having antioxidant, antifibrotic, immunomodulatory, antiproliferative, and antiviral properties. Silybum may also be useful for xenobiotic poisoning, hepatitis, cirrhosis, and liver fibrosis.

(Mentha Arvensis) belongs to the Lamiaceae family and grows in many parts of the world.  The aroma of mint has been shown to increase alertness and help with fatigue, but that's only one reason to wake up and smell the… mint. Mint has been used since ancient times for skin problems like acne, and for stomach problems. This is due to its powerful antioxidants,  phytonutrients, and antibacterial, antifungal essential oils which may assist with inflammation, and help detoxify the stomach from certain pathogens.

Neem
(Azadirachta Indica) Originating in the Southern regions of Asia and Africa, many parts of the neem tree are useful including the leaves, fruit, bark, oil, flowers, and gum. Neem leaves can kill bacteria and other toxic microorganisms in your intestinal tract that may help with cleansing the digestive tract and smoothing digestion

In addition to its antibacterial, antiseptic, and antiviral qualities, neem has also been used to treat malaria, and has antioxidants which reduce inflammation. Recent research has also been exploring ways neem might help with the upregulation of certain antioxidants and carcinogen detoxification enzymes. Neem leaves are bitter, but that would be some sweet news!

Turmeric
(Curcuma Zingiberaceae) In India's Vedic culture this culinary herb has had both spiritual and medicinal significance for approximately 4000 years. One of its most important uses in traditional Ayurvedic medicine was for cleaning parasite infections.

In modern herbal medicine, Turmeric has been noted for its powerful anti-inflammatory properties and is being researched as an anti-cancer plant. It's often used for an assortment of issues including  rheumatoid arthritis, chronic anterior uveitis, conjunctivitis, urinary tract infections, liver illnesses, digestive diseases, menstrual difficulties, and headaches.  

Turmeric's role as a detoxifying herb is very complex since it contains over 100 compounds: antioxidants which reduce free-radicals, special enzymes which can break down certain chemicals, through chelation which can bind and expel lead and cadmium from the body, and through bile stimulation which aids in the breakdown and removal of wastes from the body.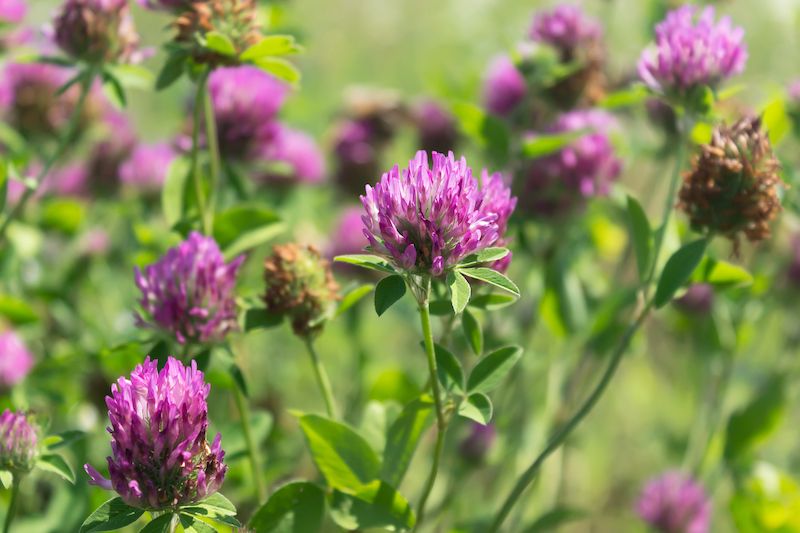 Red Clover
(Trifolium pratense) which belongs to the legume family originates from Europe and Asia. It supports liver function by facilitating bile production and acting as a diuretic and blood detoxifier thanks to powerful compounds it contains called isoflavones.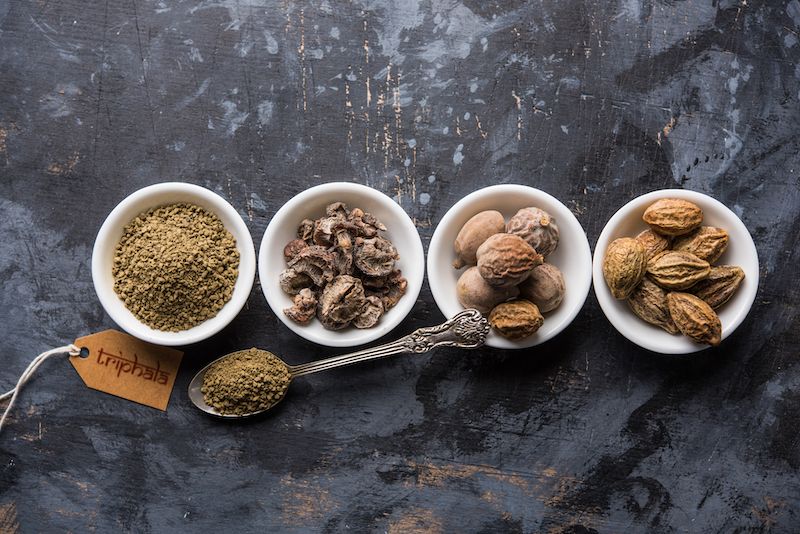 is technically a combination of the dried fruits of 3 plant species found in Asia which are used synergistically in Ayurvedic medicine for an assortment of issues including gastric hyperacidity, appetite stimulation, and nutrient absorption. Although it is believed these herbs are best taken in combination, below we'll look at some highlights of each of the herbs by themselves.

Alma or Indian gooseberry (Emblica Officinalis) is packed with powerful nutrition including vitamin C, amino acids, minerals, and other powerful compounds like phenols, tannins, curcuminoids, emblicol, and phyllembelic acid. Several preliminary studies indicate that Indian gooseberry extract may inhibit cervical and ovarian cancer cells.

Bibhitaki (Terminalia Bellirica) is used in Ayurvedic medicine such as bacterial and viral infections. Bibhitaki contains has been researched for its anti-inflammatory properties, which help it in reducing uric acid levels in patients with gout. It contains ellagic acid and gallic acid which are also thought to help the body maintain blood sugar levels, and improve insulin resistance.

Haritaki (Terminalia Chebula) is another powerful antioxidant and anti-inflammatory known as the "king of medicines" in Ayurvedic medicine. Since ancient times it's been used for a variety of conditions such as stomach ulcers, heart disease, asthma, and constipation.

(Zingiber Officinale) is one of the most popular medicinal herbs. It's often used for intestinal disorders, nausea, and urinary tract infections. Over 400 bioactive components come from ginger. Ginger has broad biological activities, and is even more potent when combined with other plants, like spicy peppers where the combo was recently found to have potent anti-cancer effects.

(Allium Sativum) contains at least 33 sulfur compounds, several enzymes, minerals, vitamins, and 17 amino acids. It can inhibit and kill bacteria and fungi, and research indicates it may also be able to lower blood pressure, cholesterol, and sugar, and prevent blood clotting. Garlic stimulates the lymphatic system to remove waste products from your body and  is also considered an effective antioxidant, protecting  cells against free radical damage.
If you're looking for herbal detoxes with many of the ingredients listed above consider checking out Naturacentric detox blend and others on NatureHub Marketplace, which specializes in small batch products with wholesome ingredients.

Thanks for sharing this article to help spread awareness and support independent journalism. NatureHub's mission is to help you find healthy local businesses, and to help them compete against big box monstropolies. Thanks for checking out our new marketplace on NatureHub for all your organic handmade goods and herbal remedies!
---
Disclaimer: The NatureHub Blog provides general information about health related topics. The information provided on this blog, website or any linked materials are for informational purposes only, and not intended as medical advice, for diagnosis, or treatment of any disease, and should not be used as a substitute for consultation with a medical doctor.
---
Subscribe
Join the newsletter to get the latest updates.
---
---