In our previous articles, we've discussed the environmental damage of fast fashion as well as more sustainable options we as consumers could choose, such as thrifting and opting for eco-friendly materials.
Some fashion brands are working hard to implement greener, more sustainable practices, too; as such, using organic, biodegradable, vegan materials could be a great eco-friendly solution.
We spoke to Murmali, an emerging British eco-brand, to find out how they use cork to create high-end vegan and sustainable handbags.
Why cork is sustainable
Cork is harvested naturally from the bark of cork oak trees grown in the southwest of Europe and northwest of Africa. Because the harvest involves only the bark (outer "skin" of the tree), the tree keeps on living and is never cut down.
While growing its bark back, it captures some extra CO2 from the air. Counting that each tree can be harvested every nine years and that they can live up to 200 years, one single tree allows about 17 to 20 bark collections. This means that harvested cork trees absorb 3 to 5 times more CO2 than unharvested trees.
With all this, it is estimated that cork oak tree forests can absorb 14 million tons of CO2. That's the equivalent of 20% of the CO2 emissions emitted by cars in the UK in a whole year!
Can I rely on cork as much as on leather?
Not only is cork a vegan, sustainable, and 100% renewable alternative to leather; it also presents some pretty amazing advantages.
Cork is water-resistant
The suberin (a waterproofing substance) in the cells of cork makes it impermeable to liquids.
Cork is extremely light
Over 50% of cork's composition is actually air, which makes cork handbags incredibly lightweight.
Cork is scratch-resistant
Thanks to its honeycomb structure, cork is highly abrasion-resistant and has a high friction coefficient, which makes your cork handbag strong and durable.
Cork is stain-resistant
If you actually manage to get your cork handbag dirty, it is very easy to clean with just water.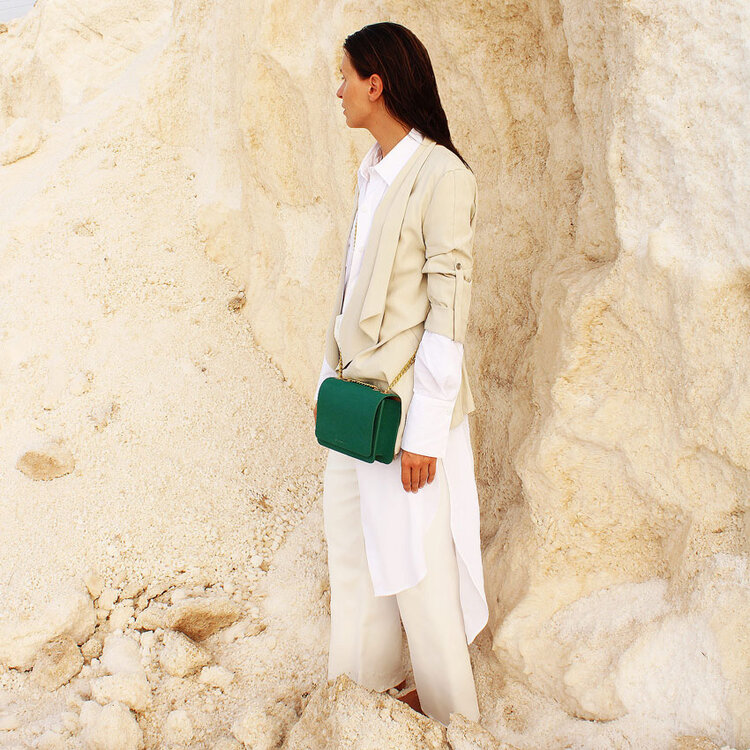 How Murmali uses cork to create handbags
In the last years, some fashion brands have introduced cork as their signature material. In this context, Murmali wanted to take a step further by creating top-end, hand-crafted cork accessories.
They outsource the manufacturing of their collection to small workshops located in Alentejo, Portugal, a location known for its cork goods tradition and its artisan craftsmen.
Murmali embraces the natural pattern present in each bit of the cork fabric to create exclusive and non-replicable products. Furthermore, because of the minimalist style and the quality of the materials used, all Murmali accessories are timeless pieces that truly represent sustainability and luxury.
Check out Murmali's entire collection of vegan handbags on their website.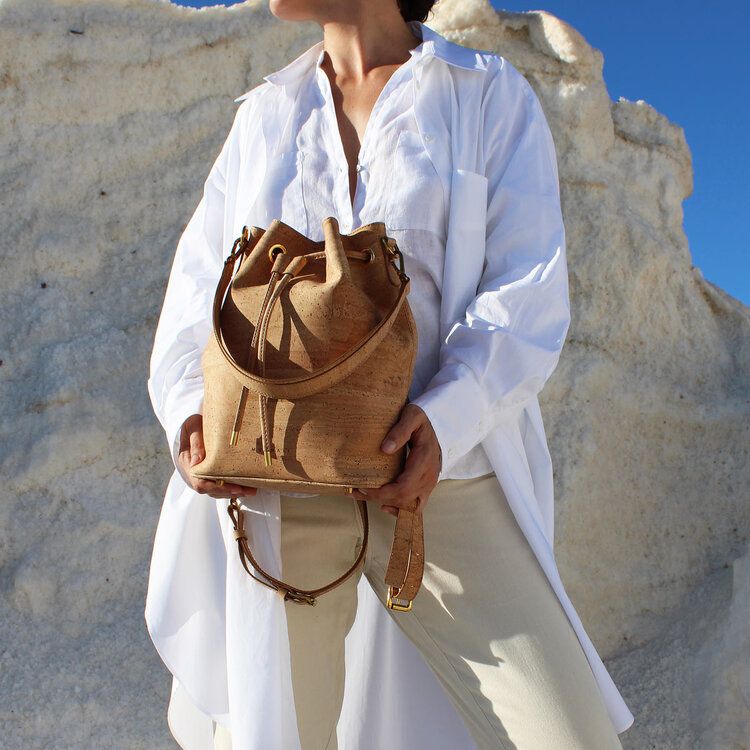 Looking for more ethical and sustainable brands? Take a look at NatureHub's map of good, green, local businesses!
---
Subscribe
Join the newsletter to get the latest updates.
---
---